Hobby
Iron Warriors Tactical Marines Completed
First squad done!
---
Approximate Reading Time:
3
minutes
My first ten Iron Warriors Tactical Marines, are done! There are many more to come, at least 50 I should think. Next on the list for my 30K Iron Warriors are 2x Contemptor Dreadnoughts.
Never miss an article? Subscribe!
Updated Iron Warriors Tactical Marines Methods
I have documented the entire process in my First Iron Warrior Completed article. I have updated that article slightly to include some new methods used on these models. Mainly for my own sanity when I return to doing more Iron Warriors.
This included;
Blending from wet Fenrisian Grey to wet Dark Reaper and then into wet Abaddon Black on the shoulders.
Agrax Earthashade was used as a wash over the stripe. I then used a damp brush to pull the wash back towards the edges, leaving a bright yellow in the middle.
It is probably not worth using putty on the bullet holes, on these small models.
Green OSL
I have used this method before, on a Necron I think. And that went OK.
I revisted the technique again using Vallejo Fluorescent Green and Vallejo White.
I first applied several thin layers of the green, building it up where it looked right – effectivly glazing.
This was scary, doing it on a basically completed model.
Once it looked OK I edge highlighted the shoulder in white and did some spots of white on the armour.
I then glazed over this white with green and applied the green neat at the very edges to give it the brightness.
I then glazed green on the furthest away edges from the plasma pistol, like the left shoulder's Iron Warriors skull, just below the skull and under his bicep.
That last step I think completed it, that slight, fate hint just made it worked.
Then I stopped before I went too far
The actual plasma pistol was done using;
Firstly it was based in white.
Green glaze all over the white and nearly the whole pistol.
Let that dry.
Glaze white back into the lowest points of the ridges.
Iron Warriors Tactical Marines – Completed Gallery
These were taken with my Samtian Lightbox.
Iron Warriors Tactical Marines – 360° Video
Iron Warriors Tactical Marines Basing
The basing got an article of its own, Iron Warriors Martian Bases. I was really happy with these, especially on the model with the pigments on his legs. This photo below does not do them justice at all. I give myself a 9/10 here.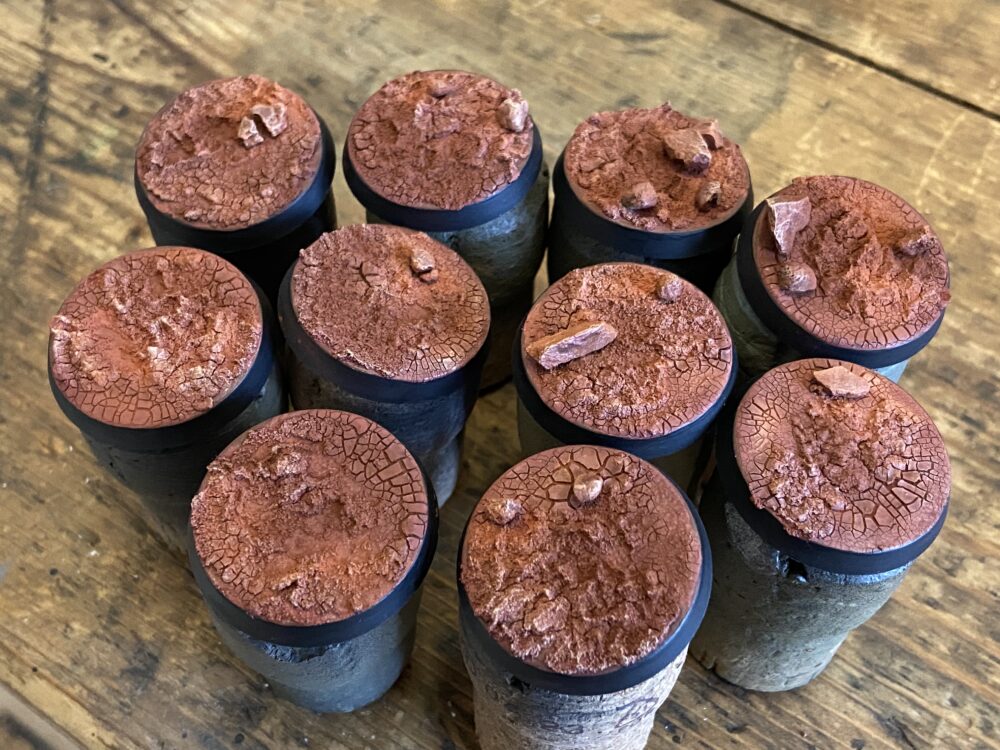 Iron Warriors Tactical Marines – WIP Gallery
My first idea for basing was grey urban rubble, I could not make it work. So went for Martian.
---