Hobby
Iron Warriors Contemptor Dreadnoughts Completed
My very first Dreadnoughts!
---
Approximate Reading Time:
3
minutes
These are my first ever Dreadnoughts, 2x Iron Warriors Contemptors for use with my new 30K force. I have gone for an anti-vehicle and an anti-infantry loadout.
Never miss an article? Subscribe!
Iron Warriors Contemptor Dreadnoughts – Weathering
This article about my first Iron Warriors details most of the processes used on these two Iron Warriors Contemptor Dreadnoughts. But I have been asked a lot about the process for the hazard stripes. So, here it is:
Base in Leadbelcher spray.
Image 1: Paint on Ushabti Bone where the hazard stripes will go.
Image 2: Then paint over Ushabti Bone with Flash Gitz Yellow (or any bright yellow), the Ushabti Bone makes painting on the yellow a lot easier.
Mask off the yellow with 3mm (or similar) Tamiya Precision Tape. I place them on directly next to each other, then remove every other one.
Image 3: Paint on the black, I used Abaddon Black in a couple of coats.
Image 4 & 5: Remove the tape
Image 6: Apply scratches of yellow using a very thin brush with a little water to thin it, I used a 0000 brush for this. Do no revisit a scratch, it will end up too thick or wonky. Better to black it out again. Or just leave it.
Image 6: Wash the whole area with Agrax Earthshade. Pull the wash away from the centre, using a slightly damp brush, while it is still wet to make the centre brighter. I do this 3 or 4 times, allowing it to dry each time. This builds up that dirty effect slowly. Ensure it is dry after each application to avoid "tearing up" the previous layer.
Image 7: I used Stormhost Silver (or any bright silver) on the very edges using  a small brush. Tapping I found key here, do not edge highlight in lines, tap the brush over and over again, get more paint, tap again. This gives a scratches and fethered effect, not a simple line.
Image 8: I used pigment powder on the left once it was on the base to blend it in with my Martian base.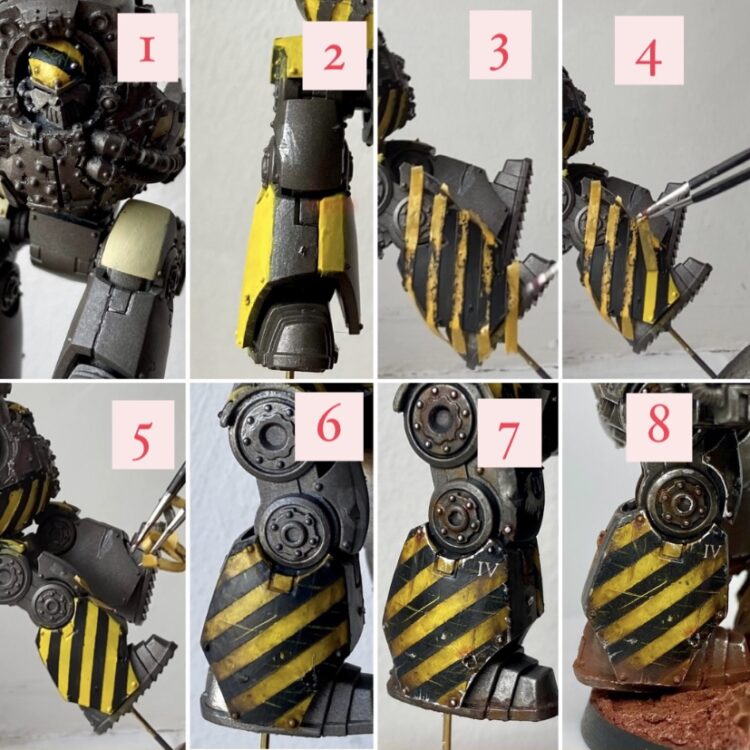 Iron Warriors Contemptor Dreadnoughts – Completed Gallery
These were taken with my Samtian Lightbox.
360° Video
Anti-Infantry
Anti-Vehicle
Martian Basing
I used Martian Cliffs from Etsy for the rocks on these bases. Bigger bases, bigger rocks.
The basing got an article of its own, Iron Warriors Martian Bases. I was really happy with these, especially on the model with the pigments on his legs. This photo below does not do them justice at all. I give myself a 9/10 here.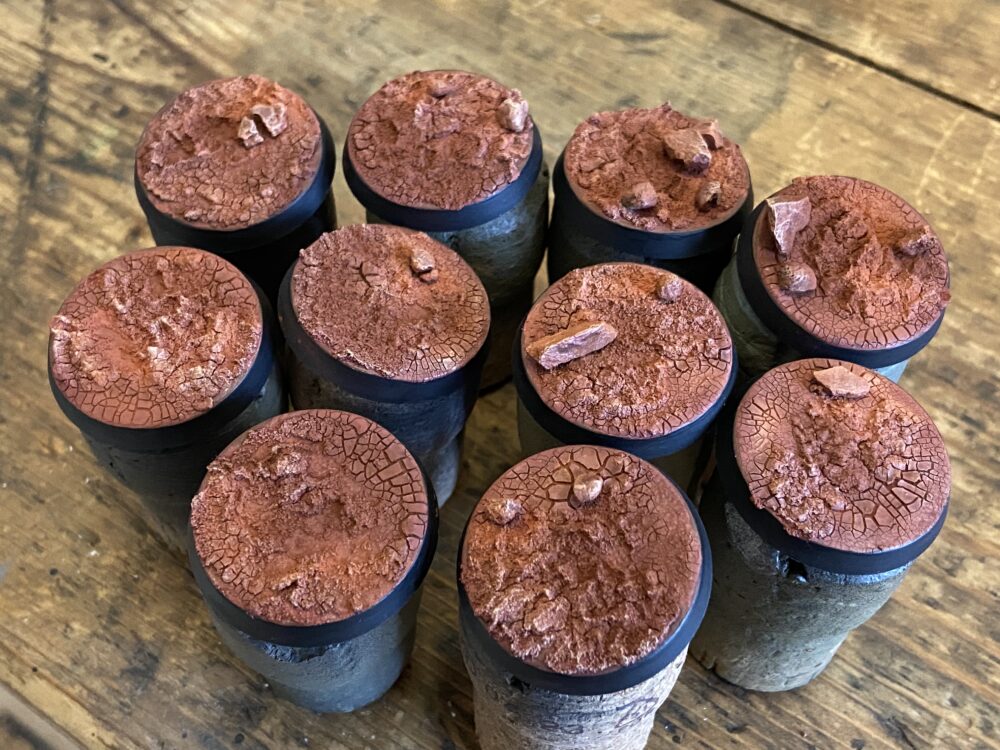 Iron Warriors Contemptor Dreadnoughts – WIP Gallery
---