Hobby
Dry Mud Bases
Time to get my base on...
---
Approximate Reading Time:
4
minutes
With my new Raven Guard force well on its way to being done, I thought I'd share how I did their simple dry mud bases.
Never miss an article? Subscribe!
Remember to paint your whole base brown before using Agrellan. I use Steel Legion Drab on the whole base. Including the rim. When the texture dries, it ensures you see brown through where it dries. And not a black base. Which looks very odd. Trust me. I've done it!
Agrellan is King for Dry Mud Bases
This was the first time I'd used Agrellan Earth and Agrellan Badland. And it's a winner!
Both are great basing paints from Games Workshop and work well independently. My Guardsmen use just Agrellan Earth. But together, they have various textures and appearances that bases come alive.
The Agrellan Earth can be used to create small dried puddles or streams. While the Agrellan Badland is generally dried mud.
Try out both before you use them to get used to what differing thicknesses look like. Thigh Agrellan Earth produces many big bits of cracked mud. Using a thinner layer creates smaller cracked sections. But go too thin, and you'll get none.
Seraphim Sepia & Dry Brush
After it's all dried, it's washed with Seraphim Sepia. This dulls it all down and gets into the nooks and crannies. I then dry brushed with Ushabti Bone and then Screaming Skull.
This brings out all the details and tiny bits of dried mud and sand. This was the technique suggested by The Unrelenting Brush. It works so well!
Wood & Rocks for Dry Mud Bases
When I built these bases, I used old sprue that I'd melted to look like twisted metal, cork for rocks covered in PVA glue, sand, and thin wood sheets.
I was dreading having to paint all this battlefield detritus. But it's pretty fun once I get the techniques nailed. I washed the sand on the cork with Seraphim Sepia and then dry brushed it as above. To ensure it blended with my bases.
The sprue was simple; Leadbelcher, Seraphim Sepia wash, and then a Runefang Steel highlight. Simple.
The wood effect was the same as my Ratlings and Heavy Weapons Team ammo box. Paint it Rhinox Hide and then do little-painted lines of every brown I own;
And that's it for wood! My dry mud bases are really coming along now…
Details
It's time to add the details. I used Melta Bombs, Citadel Skulls, grass and flowers. Each adds that little extra to the base. It's a small area, and having that little pop makes a big difference.
The grass is beneficial too. It can hide areas of the base you're not happy with. Maybe the Agrellan didn't dry how you wanted it to, or maybe a part of a boot is missing due to some enthusiastic clipping. No problem! Place a hunk of grass next to the boot.
Dry Mud Bases Done
The bases are for my Raven Guard; more on them soon…
Pigments – Update for 2023
I still do my bases like the above, but now I apply pigments. I have been doing this for a while and thought it prudent to update this article accordingly.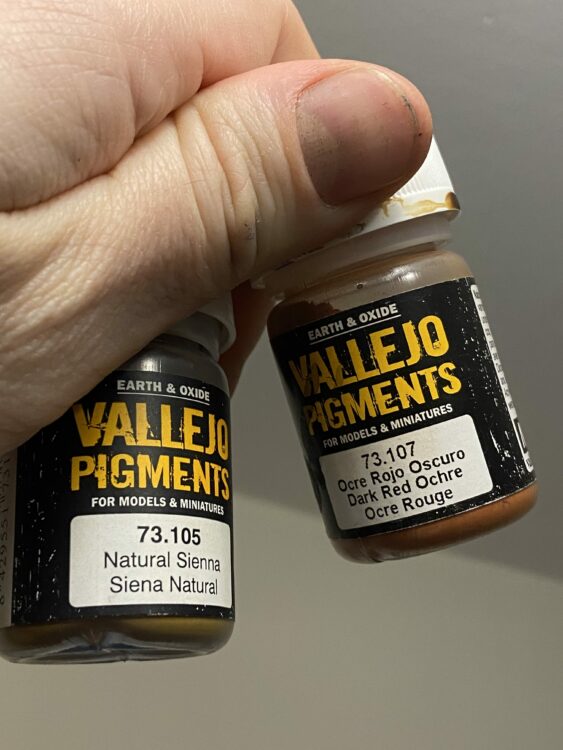 These add a dusty effect and tie the model's legs/wheels/tracks to the base. See here on my Rapier Laser Destroyers. And on these work-in-progress FIeld Ordnance Battery bases.
---