Hobby
Painting New Cadian Shock Troops – My New Method
I have changed my method for painting Cadians slightly...
---
Approximate Reading Time:
3
minutes
I used the crew from the Cadian Field Ordnance Batteries to test this method for painting the new Cadian Shock Troops. I needed to try this method before rolling it out onto the new Cadian models I have.
Never miss an article? Subscribe!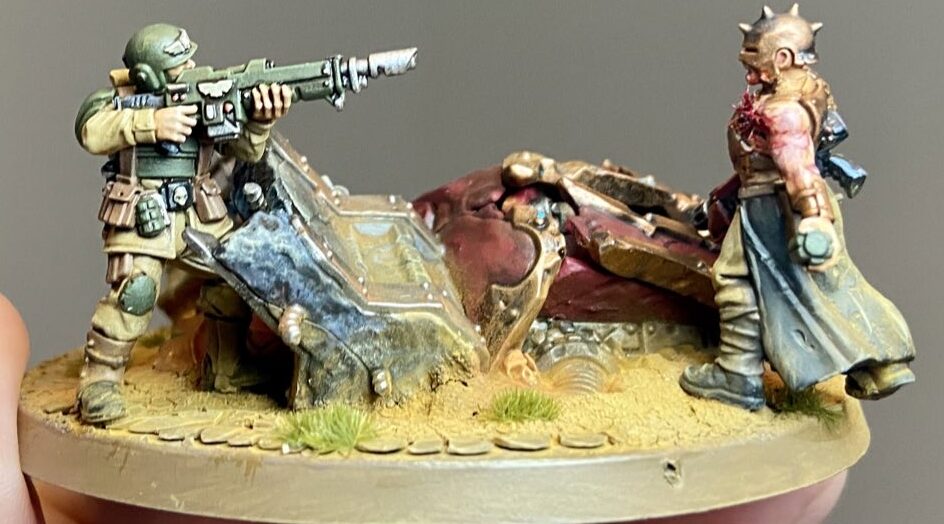 Painting New Cadian Shock Troops
With the introduction of a brown oil wash, rather than using Agrax Earthshade, I hope to vary things a bit more without being so wedded to one recipe for painting my Cadians. The oil wash will add more variation to the Castellan Green and Zandri Dust and allow me to extend this recipe and explore more techniques in the future.
This is my current process for the new Cadian models.
Spray Zandri Dust
Armour Castellan Green
Leather Gorthor Brown or Rhinox Hide
All over brown oil wash – see below
Wipe off the oil wash
Highlight green with Loren Forest
Highlight leather with Baneblade Brown
Highlight Zandri Dust with Zandri Dust and Ushabti Bone
Leadbelcher on all metals
Screaming Skull on skulls/skull wings
Nuln Oil wash on metals and skulls/skull wings
Highlight metals with Runefang Steel
Gems/lights I first base with Runefang Steel
Then I use the Games Workshop gemstone paints – e.g. Spiritstone Red
Cadian Skin
Kislev and white (50/50 mix) base coat
Reikland Fleshshade wash
Highlight with Kislev and white – I use Dead White from Vallejo
Then I use the Reikland Fleshshade wash and the base colours together to blend it all
I use Nuln Oil for the 5 o'clock shadow, one or two coats is usually enough
Painting New Cadian Shock Troops – First Attempt
For my first attempt, I filled an old Agrax Earthshade pot halfway up with VMS Weathering Carrier and added four pea-sized Abteilung 502 Brown Wash oil paint blobs. I shook it well and tried it on a model.
It was too thin, so I did another layer, and it was too thin. And then another.
After three, I think this was when I decided it was OK, wiped off the excess, and went for the details.
Painting New Cadian Shock Troops – Second Attempt
I then added pea-sized amounts of oil paint until I got to 10 pea-sized blobs of oil paint. I used this on the model below, which I will use for all my new Cadian infantry. As I mentioned above, I think I can try other oil washes and techniques with this scheme. I have a cream and green oil paint – which I can use on the armour to give some variation on the armour panels – rather than just being green, wash and highlight.
Green
I used oil paints on my Hades Breaching Drill, something I will do again. It is very subtle – it was my first time trying this – but the green has variation in it and marks. More so than my old Cadian infantry and my Leman Russ tanks.
Something to think about for my future projects…
---