Battle Reports
Cadians vs Imperial Fists – 2,000 Points – 10th Edition
Warhammer 40K 10th Edition rolls on!
---
Approximate Reading Time:
2
minutes
This is my fifth Warhammer 40K 10th Edition game, Cadians vs Imperial Fists. There is not much writing on this one, I played this game weeks ago and I have just not had the time to write it up properly. It was a damn good game and it was so close!
Never miss an article? Subscribe!
This game was at Boards and Swords in Derby.
Cadians 2,000 Points List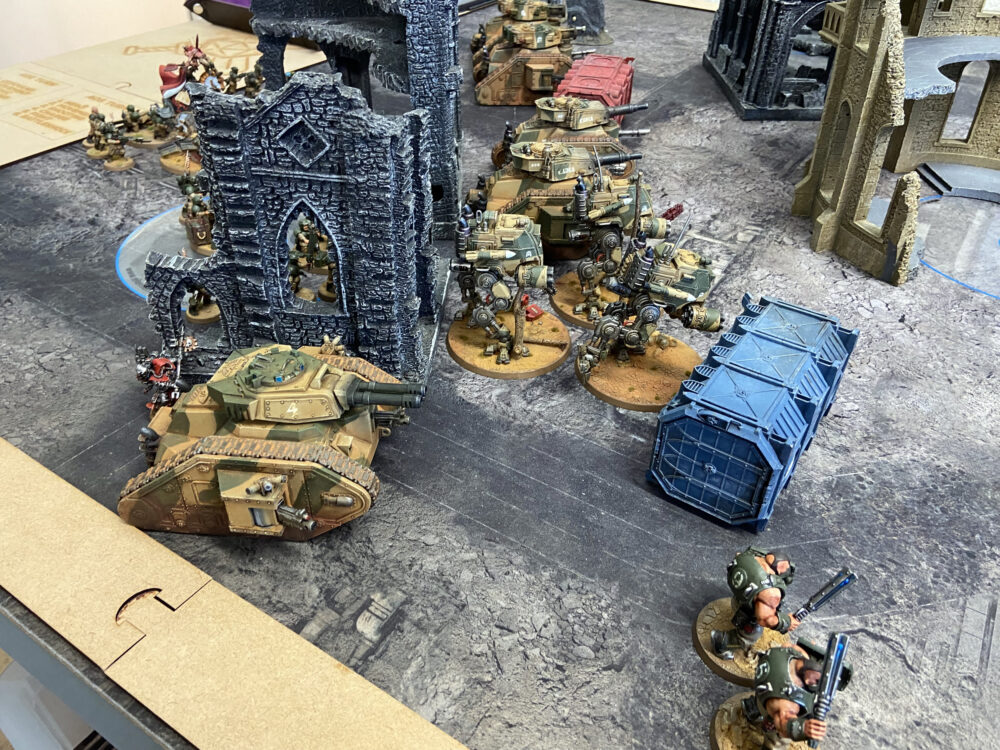 Alpha Unit
Lord Solar Leontus
Platoon Command Squad with Kurov's Aquila, Master Vox, Medipack, Autocannon
10x Infantry with a Plasma Gun, Autocannon, and Vox
Bravo Unit
Creed
Platoon Command Squad with Master Vox, Medipack, Lascannon
10x Infantry with a Plasma Gun, Lascannon, and Vox
Leaderless Units
Regimental Enginseer
3x Bullgryns
3x Armoured Sentinels with Missile Launchers and Hunter Killer Missiles
A Leman Russ Exterminator with Hunter Killer Missile, Heavy Bolters
3x Leman Russ Demolishers with Hunter Killer Missiles, Lascannon and Multi Meltas
2x Leman Russ Battle Cannons with Hunter Killer Missiles, Lascannon and Multi Meltas
3x Tempestus Scions with Plasma Gun, Melta Gun and Sergeant with Power Fist and Plasma Pistol
Imperial Fists
2x Infiltrator Squads
Desolation Squad of 10 models with an Apothecary
2x Dreadnought Brutalis
A Whirlwind
2x units of 5 Terminators, one with some form of Captain
Torgaddon – was on his own. My opponent forgot he was in his list but had no units to attach him to
10x Sternguard Veterans
A Tech-Marine
The Mission
We both went for Tactical Objectives, drawing and discarding cards.
We draw Delayed Reserves, so any Reserves being brought in on Turn 2 could only come in on a D6 roll of a 3+.
Deployment
Turn 1
Turn 2
Turn 3
Turn 4
Summary
Final Score
Astra Militarum

– 64
Imperial Fists – 66
Imperial Fists
Victory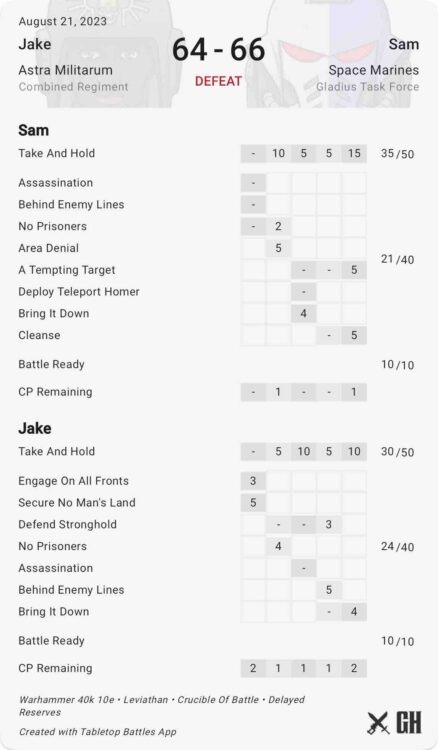 ---